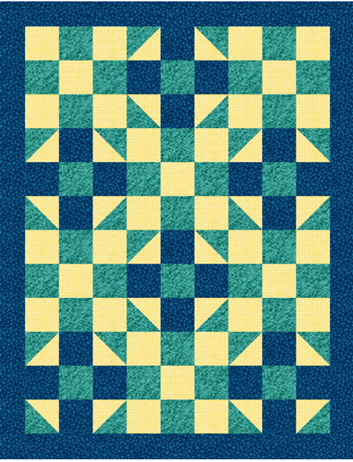 This class will take place via Zoom. Cost is $20.
First Steps in Quilt-Making
A Hands-on Class by Yvette Chilcott
We'll make this 2-block 42" x 54" quilt top together, from the very beginning. Here's a general idea of what I'll teach:
•The basics – Fabric, Thread, Needles
•Rotary cutting, safely and accurately
•Organizing and labelling your pieces
•How to sew a perfect ¼" seam
•How to use "strip piecing" to make 9-patch blocks
•How to make the half-square triangles for the Monkey Wrench blocks.
•How to measure for the borders
•How to attach the borders.
The quilt is made with 3 fabrics, a light, a medium and a dark.
A supply list will be sent out upon registration.