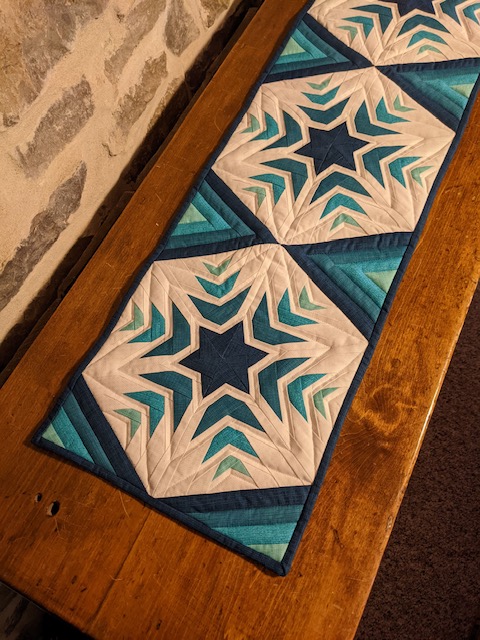 The next Workshop is Foundation paper piecing which is good for beginners and all levels of experience.
The workshop is a two day Zoom Event. April 29, 9:00 AM to noon and May 6, 2022, 9:00 AM to noon. Cost is a total of $50:00 and you must purchase the pattern at thebalconyquiltstudio.ca.

Please email Marie Newman if you would like to sign up. A maximum of ten participants. We will take registration at the meeting on April 20th.
The instructor is Kathy Colwell from the Balcony Quilt Studio. Following is more information on the class.
FOUNDATION PAPER PIECING WORKSHOP
Join Kathy for two no-stress classes to learn the essential steps involved in foundation paper piecing. We'll discuss the pros and cons of different types of paper and of the "rip-less" and "sew-through" approaches.
While learning the technique, we'll be working with a brand new pattern designed for this class by our own Emily of The Balcony Quilt Studio - a table runner with a delicate snowflake design. The three different sections of the design gradually increase in complexity to ease you into this process. This pattern can easily be made longer with the addition of more blocks. We'll finish up the second class session with some brainstorming on how to quilt this runner once the piecing is complete!

I recommend that you read through the Glacial Snowfall pattern ahead of time to have an idea about the construction process. ( If you are brand new to foundation paper piecing, you may wish to purchase 1/2 yard cuts of the light, medium and medium dark fabrics, instead of the stated 1/4 yds, in case you find you need to re-cut/re-do any pieces)
In preparation for the class:
Attach fabric swatches where indicated on the pattern's Cutting Directions pages.
Cut out pieces as indicated in the cutting directions. Organization is key to smooth construction and I'm sure you will discover labelling will be time well spent. We like to use clips to hold each bundle together as well as to attach the label to it. Precise cutting is NOT required.
Supply List:
Sewing machine in good working order
Pattern with template pages printed or traced onto freezer paper, printer paper or foundation paper piecing paper
Rotary cutter and small cutting mat
Add-a-quarter or small ruler
Pins
Thread to blend with background fabric
Thread snips or small scissors
Piece of cardstock or postcard